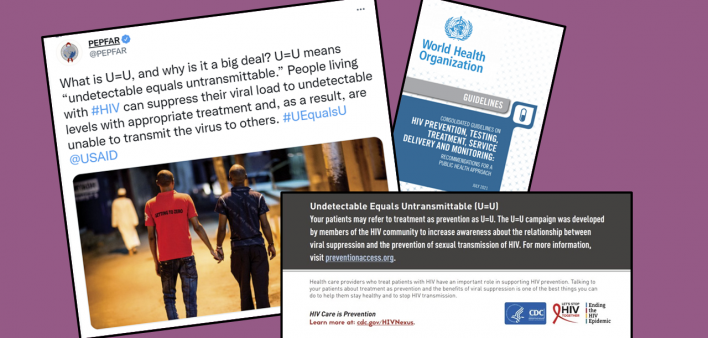 WHO, PEPFAR, CDC & UNAIDS Endorse U=U
"The world needs good news. This year, we've got it: People living with HIV who are on treatment and have an undetectable viral load cannot sexually transmit HIV. In other words, Undetectable = Untransmittable (U=U).
But not everyone knows U=U yet. So World AIDS Day is an excellent opportunity to share the hopeful and revolutionary news!
YOU'VE GOT BACKUP!
The world's most influential medical and scientific establishments have endorsed U=U. While they can't officially join the U=U campaign as community partners, they all now use clear language and endorse U=U in their official communications, which are summarized below. For more examples of the language and sources, check out PAC's "Flagship Endorsements."
Read more of the blog post about U=U endorsements here.