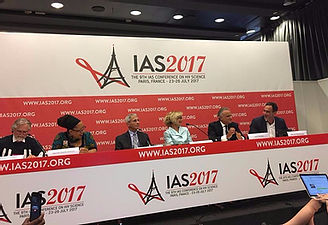 At the UequalsU The Significance of Undetectable = Untransmittable press conference at the International AIDS Society 2017 conference, Dr. Luis Loures Deputy Executive Director of UNAIDS confirmed that UNAIDS supports the U=U message.
Also that day, UNAIDS released an updated explainer on Viral Suppression which states
​
'In addition to the positive impact upon the health of people living with HIV, there is increasing consensus among scientists that people with undetectable HIV in their blood do not transmit HIV sexually. This knowledge can be empowering for people living with HIV. The awareness that they are no longer transmitting HIV sexually can provide people living with HIV with a stronger sense of being agents of prevention in their approach to new or existing relationships.'
Also on the press conference panel were Dr. Anthony S. Fauci, Ambassador Deborah Birx, and Bruce Richman.
"This is a historic moment." said Bruce Richman, Founder of the Undetectable = Untransmittable (U=U) campaign. "With the support of UNAIDS, this life-changing message will be shared on a global scale which will not only transform lives of people living with HIV who are on treatment and in care, but will greatly strengthen advocacy for universal access for both personal and community health."
Read the full explainer at UNAIDS.