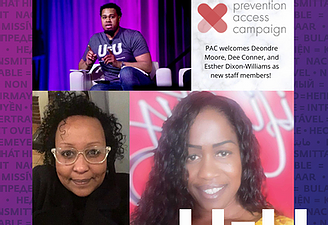 Prevention Access Campaign Welcomes New Staff
Prevention Access Campaign (PAC) and the Undetectable equals Untransmittable (U=U) Campaign are thrilled to announce new members of the team who will expand community outreach and engagement as well as develop and deepen new and existing partnerships.
Effective immediately, Davina (Dee) Conner will begin a new role as U.S. Creative Engagements and Outreach Specialist. Deondre B. Moore will serve as U.S. Partnerships and Community Engagement Manager. Esther Dixon-Williams recently began as Coordinator, Global Affairs. With these exciting additions to the team, PAC aims to deepen our commitment to using the powerful U=U message to improve viral suppression rates, advocate for the health and wellbeing of people with HIV, prevent new HIV transmissions, and decrease stigma.
Read the rest of the announcement at POZ.com.