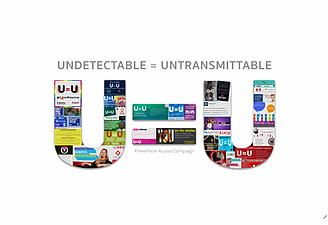 Prevention Access Campaign Aims to Teach Singles & Couples That U=U Means Those With Undetectable HIV Can't Transmit The Virus
"Four major scientific studies have proven that HIV-positive individuals who have an undetectable viral load and stay on their medications do not transmit the virus to sexual partners. The findings were initially announced in 2008 with the Swiss Statement, and they were confirmed again in 2016. For many people diagnosed with the virus, the news is nothing short of life-changing.
"Diagnosis doesn't mean no more satisfying relationships," said Murray Penner, the Executive Director of North America for Prevention Access Campaign. "And that lifts people out of depression. They feel like they can be intimate and free in their sexual relations, and that's at the heart of it."
Prevention Access Campaign wants to raise awareness that those with undetectable levels of HIV can't transmit the virus.
Through the U=U campaign, Prevention Access Campaign seeks to raise awareness that undetectable equals untransmittable. The campaign began because, even though the science is clear, the information was not widely known. Many people still don't understand the value of receiving treatment and staying on their medication. So there's much more work to do to have U=U become foundational in people's lives." Read more at DatingNews.com.