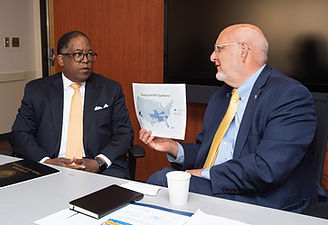 L.A. County health officials team up with CDC as part of effort to stop spread of HIV
"Robert R. Redfield, MD, the Director of the CDC stated, "15 percent of people living with HIV infection haven't been diagnosed."
"The goal is reduce the U.S. infections by 75 percent in the next five years, and 90 percent by 2030," added Dr. Muntu Davis, MPH, the L.A County Health Officer.
Dr. Refield continued, "The first pillar is to get people diagnosed."
Once people are diagnosed, doctors can use treatment to suppress patient's viral load. That's the strategy behind the campaign: Undetectable = Untransmittable, or "U=U."
Diagnosed persons living with HIV who are virally suppressed are not able to transmit the virus to somebody else.
"So it's very important to realize that one of the most important prevention tools that we have is diagnosis and treatment," Redfield stated."