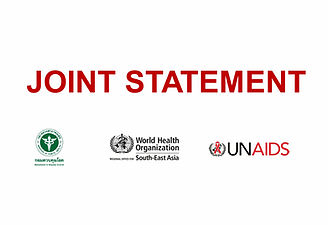 Joint Statement from the Ministry of Public Health of Thailand, UNAIDS, and World Health Organization on U=U.
Bangkok, Thailand, 21 February 2020: "The Ministry of Public Health of Thailand, UNAIDS and WHO endorse Undetectable = Untransmittable (U=U). As published in UNAIDS explainer Undetectable = Untransmittable, Public Health and HIV Viral Load Suppression, U=U means that people living with HIV who achieve and maintain an undetectable viral load, cannot transmit HIV sexually.
This concept is based on strong scientific evidence from four key studies (HPTN-052 study, PARTNER study, Opposites Attract, PARTNER 2 study) involving couples where one partner was living with HIV and the other was not. These studies did not detect a single case of sexual transmission of HIV from a virally suppressed person living with HIV to their HIV-negative partner.
With U=U, HIV treatment has transformed the HIV prevention landscape. Not only does HIV treatment have life-changing individual benefits by enabling people living with HIV to stay healthy, maintain their quality of life and have a lifespan similar to people not living with HIV, it is now recognized to have important population health benefits by interrupting transmission of HIV. U=U can also have enormous benefits in reducing stigma and motivating people living with HIV to test, start and maintain treatment, become virally suppressed and continue follow-up care."
Read more at UNAIDS.