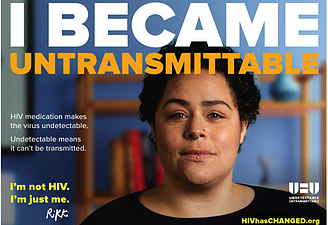 Santa Clara Public Health Department campaign aims to raise HIV awareness
"The Santa Clara County Public Health Department and the Getting to Zero Santa Clara County-Silicon Valley initiative launched a campaign Thursday at the Valley Health Center that aims to reduce HIV stigma and increase education about HIV treatment.
Called the Undetectable Equals Untransmittable campaign, or U=U, it will run from March to June throughout the county. Banners with pictures of HIV positive community members and the words "I became untransmittable" will appear on buses, light rail, and at restaurants, bars and clubs.
"HIV has changed, so the conversations that we can now have changed," Dr. Sarah Rudman, the Public Health Department assistant health officer and STD/HIV controller, said at the campaign launch. "U=U is your invitation to talk openly about HIV and how easy it is to get tested and get treatment."