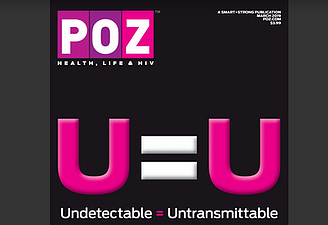 POZ Cover Story: Understanding Undetectable Equals Untransmittable
"In 2018, in a packed hall at the biennial International AIDS Conference, the world's largest HIV-related meeting, a tall, earnest man asked a question of Alison Rodger, MD, lead investigator of the PARTNER2 study.
The study had delivered yet more unequivocal proof that people living with HIV who are on treatment and maintain an undetectable viral load do not transmit the virus during sex. The monumental discovery is often referred to as Undetectable Equals Untransmittable, or U=U.
"Today is marking a revolution in what it means to live with HIV," the man said, thanking Rodger for her research, before asking how she would respond to HIV information providers who persist in finding excuses to withhold the facts that her study and others prove.
"I think the time for excuses [is] over," she quickly replied, to loud applause. "It's very, very clear that the risk is zero. We very much have to promote this: If you're on suppressive ART [antiretroviral therapy], you're sexually noninfectious."
Rodger made sure to acknowledge the global campaign whose mission is to amass support for this message—especially since the man asking was Bruce Richman, founder and key force behind that effort. "I just want to pay tribute to the U=U campaign," Rodger told Richman. "It's been astonishing."
Read the cover story at POZ.com.